National Flag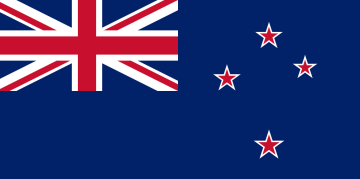 National Map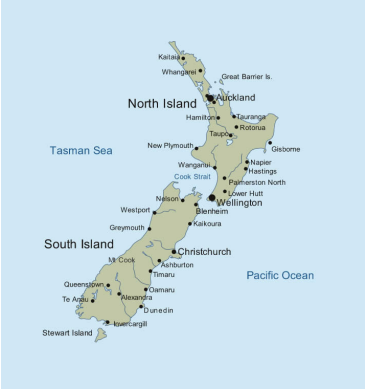 National History
New Zealand, Māori Aotearoa, island country in the South Pacific Ocean, the southwesternmost part of Polynesia. New Zealand is a remote land—one of the last sizable territories suitable for habitation to be populated and settled—and lies more than 1,000 miles (1,600 km) southeast of Australia, its nearest neighbour. The country comprises two main islands—the North and the South Island—and a number of small islands, some of them hundreds of miles from the main group. The capital city is Wellington and the largest urban area Auckland; both are located on the North Island. New Zealand administers the South Pacific island group of Tokelau and claims a section of the Antarctic continent. Niue and the Cook Islands are self-governing states in free association with New Zealand.
New Zealand is a land of great contrasts and diversity. Active volcanoes, spectacular caves, deep glacier lakes, verdant valleys, dazzling fjords, long sandy beaches, and the spectacular snowcapped peaks of the Southern Alps/Kā Tiritiri o te Moana on the South Island—all contribute to New Zealand's scenic beauty. New Zealand also has a unique array of vegetation and animal life, much of which developed during the country's prolonged isolation. It is the sole home, for example, of the long-beaked, flightless kiwi, the ubiquitous nickname for New Zealanders.
New Zealand was the largest country in Polynesia when it was annexed by Great Britain in 1840. Thereafter it was successively a crown colony, a self-governing colony (1856), and a dominion (1907). By the 1920s it controlled almost all of its internal and external policies, although it did not become fully independent until 1947, when it adopted the Statute of Westminster. It is a member of the Commonwealth.
Country Basic Information
Food Industrial Specific Information
Government
Food organizations
Standards, Policies and Regulations
Approval Export List (Traditional Trade)
Approval Export List (Cross border E-commerce)
Approval Export List (FTA Agreement)
Recommended Featured products
Recommended EFLine Members
Export-oriented Exhibition
Import-oriented Exhibition
Comprehensive Exhibition
The Customs Data
Consumption Data
Sales & Marketing Data
EFL Reports
Collective Analysis Reports
Regional Relations
Industry Policy
Supply and demand fluctuation
Force Majeure Events
EFL Reports · Collective Analysis Reports · Bilateral Trade
New Zealand in the development of economic and trade relations with China has many proud "first": New Zealand is the first developed country with China to complete China to the World Trade Organization negotiations, the first developed country to recognize China's market economy, the first to carry out bilateral free trade agreement negotiations with China, the first developed country to sign a free trade agreement with China, the first to sign a free trade agreement with Hong Kong, the first to join the Asian investment bank, the first to carry out free trade agreement upgrade negotiations, etc.
Trade in goods has grown rapidly in recent years. The complementary economic and trade relations between China and Singapore have withstood the impact of the global financial crisis. Since the entry into force of the China-Singapore Free Trade Agreement into force on 1 October 2008, the rapid growth of bilateral trade and the rapid increase of exports to China has become an important reason for the improvement of the trade balance in New Zealand. China-Singapore economic and trade relations are currently at the best time in history. In terms of trade in goods, New Zealand reduced all imported tariffs from China to zero by January 1,2016, with 63.6% of them achieving zero tariffs from taking effect; China cancelled most of them from New West by January 1,2019
Taritariff on imported products, of which 24.3% of products achieved zero tariff from the agreement's entry into force. In terms of service trade, New Zealand above WTO in 16 branches in business, commerce, construction, education and environment; China and 15 branches above WTO in business, environment, sports, entertainment and transportation. In addition, the FTA also provides liberalization, facilitation arrangements or institutional provisions on the flow of personnel, investment, customs, inspection and quarantine, intellectual property, transparency and cooperation. In November 2016, China and New Zealand jointly announced the official launch of negotiations on upgrading the China-New Zealand free trade agreement. The seventh round of negotiations on the FTA in May 2019 was held in New Zealand. On November 4,2019, China and Singapore officially announced the end of the free trade upgrading negotiations. The upgrade negotiations on the original customs procedures and cooperation, rules of origin and technical trade barriers were further upgraded, added e-commerce, environment and trade, competition policy and government procurement chapters, the two sides also made new commitments in trade in services and goods trade market access, natural person mobile and investment.
In 2019, according to Chinese customs statistics, bilateral trade was USD 18.29 billion, up 8.5% year-on-year, China exports USD 5.74 billion, down 0.7% year. on-year, China imported USD 12.56 billion, up 13.3%. China continues to maintain the position of New Zealand's largest trading partner, the largest source of import and the largest export market.
In 2019, the main categories of Chinese exports to New Zealand include: motor, electrical; furniture; bedding; plastic and its products; steel products; knitted or crocheted clothing and clothing accessories; non-knitted or non-crochted clothing and clothing accessories; vehicles and their zero accessories; toys and games, etc.
According to the statistics of China Customs, in 2019, China imported goods from New Zealand including: milk, eggs, wood and wood products; meat and food scraps, grain, food; edible fruit, fish, crustaceans; organic chemicals, etc.
Food Industrial Specific Information · Government
The Chinese Embassy in New Zealand
Address: 6 Glenmore Street Wellington N. Z.
Tel: 0064-4-4721382
Fax: 0064-4-4990419
Business Office of the Chinese Embassy in New Zealand
http://nz.mofcom.gov. cn
Address: 14 Hill Street,Thorndon,Wellington,New Zealand.
Tel: 0064-44714100
Fax: 0064-44714104
Consulate General in Christchurch (New Zealand)
http://christchurch.chineseconsulate.org
Address: 106 Hansons Lane,Upper Riccarton,Christchurch
Tel: 0064-3-3433650 (Overseas Chinese Group) 0064-3-3412255 to 715 (Office)
Fax: 0064-3-3418071
Business Office of the Chinese Consulate General in Christchurch
http://christchurch.mofcom.gov. Cn
Address: 106 Hansons Lane,Upper Riccarton,Christchurch,NZ.
Tel: 0064-39405280
Fax: 0064-33418071
New Zealand Embassy in China
http://www.mfat.govt. nz/china
Office: No. 1, East Second Street, Ritan
Chancery: No.1, Ri Tan Dong Er Jie
Tel. (Tel): 85327000
Fax: 65324317
Food Industrial Specific Information · Comprehensive Exhibition · Exhibition (Food)
Fine Food New Zealand
http://www.yshows.cn/zhanhui/1932.shtml
Auckland International Food Exhibition
Exhibition Date: June 13-15
Exhibition Venue: Oakes, New Zealand
Exhibition cycle: 2 years and 1 session
Sponsor: North Port Events Ltd.
Organization: Beijing Zhongling International Exhibition Co., Ltd.
Industry properties: Food, Beverage, Wine, and Tobacco
Provide New Zealand Food Show
Local English Show Translation
Exhibition time: June 21-23
Exhibition cycle: once a year
Exhibition Country: New Zealand
Exhibition Venue: Auckland, New Zealand
Industry properties: Food, Beverage
New Zealand National Agriculture Festival
Local English Show Translation
Exhibition time: June 14-17
Exhibition cycle: once a year
Exhibition Country: New Zealand
Exhibition Venue: Auckland, New Zealand
Industry properties: agricultural machinery and tools, horticulture, dairy technology, forest protection, forestry engineering, agricultural products and other aspects